Speed up your team or project with a seasoned professional Rubyist and mobile developer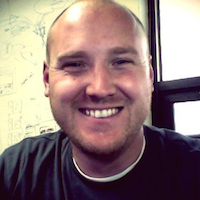 Barry, Owner, Senior Consultant
Barry has been developing SaaS apps and business applications in Ruby/Rails since 2005. He has continued to contribute on a regular basis to Rails projects as well as client work. He loves Rails due to the simplicity of the expressive language as well as the power of the large community of contributors to the open-source libraries and tools that are available to solve many common problems.
Barry has worked as a part-time freelance consultant Rubyist since 2005 and has held positions from developer to CTO. He specializes in rescueing failing projects, migrations, and regular maintenance retainers. Barry does greenfield-development and consulting as well, along with iOS development which he has been doing professionally since 2012.
Barry has varied experience with scalable infrastructure having been responsible for the horizontal-scaling of applications and database clusters (before the current crop of managed, scaled infrastructure services), but these days he likes to save businesses the long-term headaches of managing their own servers by leveraging platforms like Heroku. Barry has experience with integrated payment solutions such as Spreedly and Stripe, and has built many-a-recurring-subscription service using these very payment systems. Barry's database of choice is Postgres (because HStore!), but also has experience with Oracle, SQL Server, and MySQL (though he might deny it if you ask him).
Barry has developed an intimate knowledge of HIPAA requirements, and has implemented secure systems for the medical industry. He also previously worked for a pharmacy software company on a large team, and has useful insight on best practices in medical software. Barry has recently been indoctrinating himself with the ins-and-outs of COPPA in order to address under-served markets in that compliance area.
Barry has recently started a long-term relationship with Middleman, Amazon S3, and CloudFront, having a strong interest in building static sites that are screamingly fast, cheap to host, and with nearly all the upsides of Rails without paying through the nose to host a dedicated dyno on heroku or a VPS somewhere like Rackspace.
Feel free to ask him any of the following ice-breaking questions:
"Where would you host 10 Petabytes of data?"
"How do I implement an ecommerce system where I take a cut of each transaction?"
"When is it appropriate to use AppEngine?"
"Name the top three PHP frameworks that are like Rails, and then tell me why you'd never use PHP."
"How can a small business generate more sales with just a word-processor and someone to type into it?"
Ruby/Rails App Portfolio
2005 - CalendarHub - Pub/Sub calendar systems. [Consumer/B2B]
2006 - DryRunner - Instant virtual assistants via Amazon Mechanical Turk. [B2B]
2007 - Rezzible & WoodenCube - Simple website builder and blogging platform (respectively) for SecondLife. [Consumer]
2008 - BibleApps.com - Popular OpenSocial app for sharing favorite Bible verses. [Consumer]
2010 - Appointron - Online Appointment Book. [B2B]
2011 - Impulsv - Simple shopping cart widgets with Stripe. [B2B]
2012 - Present Day - Interesting things, happy to discuss in person.
Plus lots and lots of apps built on a consulting basis. I'm happy to talk about these in-person as well.